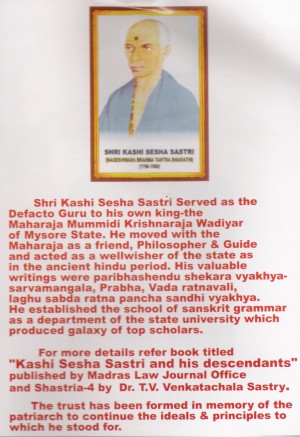 Prompted by the Divine grace, The Descendents and relatives of Koppal Family decided to form a trust in the name of their ancestor of the family known as " KASHI SESHA SASTRI".
As a follow up action three trusts have been formed with the objects narrated herein and any activity in consistence with Income –tax act and other laws in force.
The trusts aim to propagate the high values for which the Koppal Family is known for and to inculcate a sense of participation in the overall development of Society through community welfare schemes. The Trusts have been a link between donors and recipeents on the principle of "one for all and all for one".
The kith and kin are aware of the book "Kashi Sesha Sastri and his descendants" published by Madras Law Journal Office and authored by Sri. K.N. V. Sastri during 1970, which gives a deep insight into the heritage of the family.
We are also approaching the Revenue Authorities/Government Agencies/ NGOs in achieving the objects of the trust.
SHRI KASHI SESHA SASTRI FAMILY TRUST has been registered and bears the registration number BNG (U)-KNGR/146/2000-2001/BK IV Dated 20-09-2000.
Linga considered to be worshiped by  Shri Kashi Sesha Sastri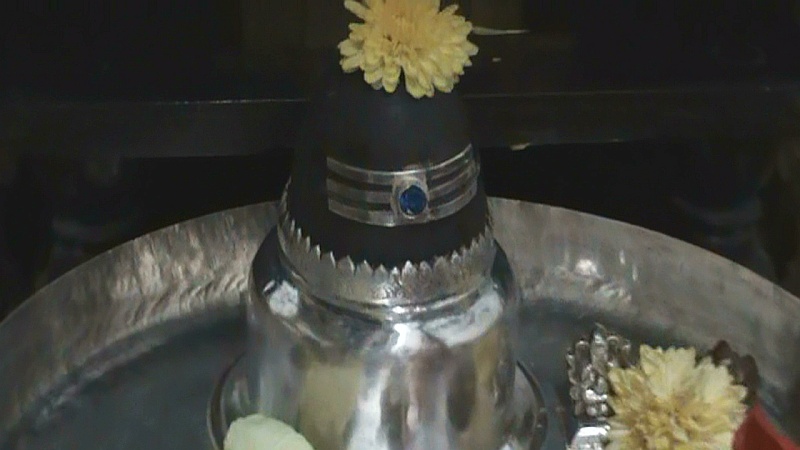 TRUSTEES:
SRI SADANANDA, B.Sc, Asst. Chief Accounts Officer (Retd.)
Office of the Director of Accounts (Postal)
Department of Posts, Bangalore – 560 001
President and Hereditary Trustee
(9448263836)
SMT.SWARNAKALA JAYARAMAN, Retired teller, Reserve Bank of India, Bangalore
Founder and Managing Trustee
"Adi Shakthi", No. 14/16, First Cross Road, Muni Reddy Layout, Chikka Kallasandra,
Subramanyapura Post, Bangalore – 560 061
Ph. 91-080-26392148


PAST TRUSTEES
SRI.SATHYANARAYANA, Dy Manager, (Retd) State Bank of Mysore
Co-Trustee
SRI.N.S SUBRAHMANYAM Retired Section Officer, High Court of Karnataka, Bangalore.
Co-Trustee